This post brought to you by Daytona Beach Area Convention & Visitors Bureau. The content and opinions expressed below are that of Raising a Healthy Family .
For the past two years, the number one destination discussed in our house has been Daytona Beach, Florida. I had been there years ago and love the fact that it is surrounded by so much water, but I really hadn't give it much thought otherwise.
When my son got accepted to Embry Riddle Aeronautical University, of course we had to take a visit to the campus – which happens to be in Daytona Beach. Talk about a beautiful area! There is so much to do for the entire family including so many kid friendly options – from the beach (of course), to sports (spectator and participant), outdoor fun, festivals, food, and of course, shopping!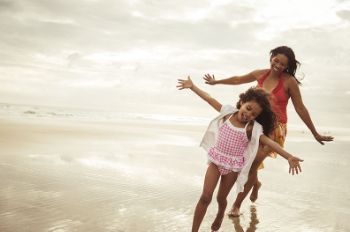 There are so many free things to do in Daytona Beach – everytime we visit we seem to discover a few more. 
On a recent trip we actually got to enjoy a minor league baseball game at Jackie Robinson Stadium – and while it wasn't free – it was pretty close! It was definitely an affordable way for a family of five to spend some quality time in the evening after a fun day at the beach.
Daytona Beach is also considered to be the Festival Capital of Florida – with something for everyone. From cultural festivals (like the upcoming Greek Festival) to our favorite – Wings and Waves Airshow – there doesn't seem to be a weekend without something fun going on!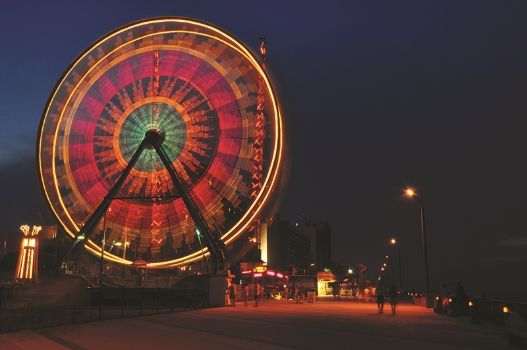 And in the event that you happen to visit Daytona Beach when there isn't a festival of some sort happening, there is always the Boardwalk and Pier  with the giant Ferris Wheel, Rollercoaster, shops, street performers and much more to do.
Located on Atlantic Avenue is also my favorite Daytona Beach Ice Cream Shop – Cow Licks! They serve extra creamy ice cream which is homemade and other delicious treats. The entire shop is decorated in a cow theme and it is definitely a fun, family atmosphere. The servings are very generous and the ice cream is definitely some of the best I have had!
Even though we have been there a few times already this year, I feel like there are so many more activities we would like to try and things we have not yet done. On my most recent visit I stayed at a hotel inland, but the next visit will definitely need to be back on the beach. A family Christmas on the beach sure does sound better than a white Christmas at home.