Orange Berry Basil Smoothie Recipe
Disclosure: This post includes affiliate links which means I will earn a commission if you make a purchase through my links at no additional cost to you. All opinions are my own.
One of the easiest ways to add fresh fruits and vegetables into your family's diet is through smoothies – they are portable, easy to make and the combinations are endless!
Right now I have an abundance of fresh basil growing in a pot on my patio and was looking for a smoothie recipe that would utilize basil.  The fresh fruit and vegetable subscription box service, GreenBlender, has some amazing recipes on its site and I decided to try one this morning. The Orange Berry Basil fit the bill – its low sugar, calming and high in nutrients.
Orange Berry Basil Smoothie Recipe courtesy of GreenBlender
1 1/2 oz collard greens
4 oz strawberries
1 orange – peeled
1 bunch basil
8 oz rice milk
1 cup ice
The original recipe called for collard greens and rice milk, but I did not have any so I swapped in baby spinach and almond milk instead and it was still very good.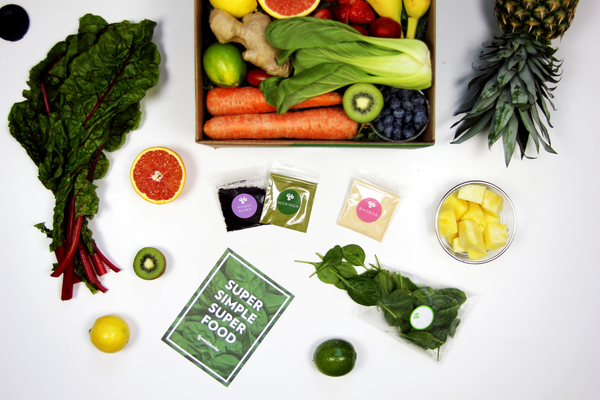 GreenBlender is a subscription service that specializes in delivering fresh fruits and vegetables needed to make delicious smoothies to your doorstep. Each week you select your 5 favorite recipes out of the 8 that are available and Green Blender sends you all of the ingredients you will need – perfectly portioned and ready for you to simply chop and blend. Of course, you will need your own blender and ice, but everything else is included.
The cost of the box is $49.90 and shipping is included. That is approximately 10 smoothies for under $50, or less than $5 each (definitely less than a smoothie at the cafe). Since it is just my daughter and me this summer, smoothies are a quick on the go breakfast for us or even a mid-afternoon treat.
Looking through the different recipes, I saw quite a few I'd love to try that use ingredients I don't always find in our local market like hard to find superfoods and add-ins like chia seeds, flaxseed, goji berries, acai berries, maca, matcha, cacao nibs, and more.  You can manage your GreenBlender subscription and skip weeks as needed or even put it on hold for an extended time if you wish.
If GreenBlender sounds like something you'd like to try, here is a coupon to get you started. Save $10 on your first GreenBlender box with the code GBSAVE10!